South Australia
Health workers point to growing problems within the state's health care system, saying they are working in "disaster mode" in overwhelmed hospitals to help sick patients.
Doctors at the Royal Adelaide Hospital emergency department draw attention to overcrowding issues during a protest action, wearing T-shirts bearing slogans such as 'we need space to protect you' to require measures for patients and staff.
The Adelaide Central Local Health Network has been trying to get the Employment Tribunal to ban health workers from wearing the shirts.
Staff say the problems are not isolated, with delays felt across the hospital sector.
In one case, a woman was left to wait for five hours on the floor of private Flinders Hospital, while at Lyell McEwin Hospital a 92-year-old woman was forced to wait outside in freezing conditions.
Bernadette Mulholland of the South Australian Salaried Medical Officers Association, a doctors' union, said frontline healthcare staff were "trained to provide emergency care, not disaster care".
"We can't keep whipping the staff we actually have," she said.
Mulholland said a major issue was the need to release patients who needed disability support but were waiting for suitable accommodation.
There are 35 patients still in hospitals across South Australia still awaiting help.
"Sometimes we hear they can stay in the hospital for months / They're not seriously ill; it's a hospital for seriously ill patients," Mulholland said.
Last night the union received calls from the South Australian prime minister and health minister saying they were ready to listen to concerns.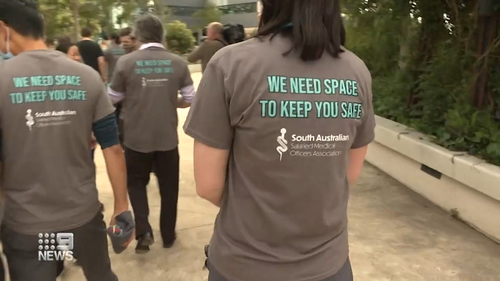 "My message to these doctors is that we are on your side and if there is something you want to see happen, then my government is the one that is ready to look into it and act on it," said the Premier Peter Malinauskas.
He said he had no problem with T-shirts.
Mulholland said other doctors in emergency department hospitals had approached the union about wearing the shirts, but only Royal Adelaide staff would wear them as a sign of good faith.
Health Minister Amber-Jade Sanderson will meet union members on Tuesday.